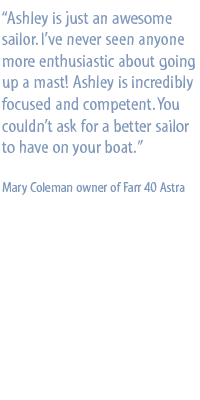 85,000 + ocean miles (racing and deliveries)
Master of Yachts 200T
Many types of sailing boats IRC 46, Farr 40, J105, J120, GL70, Andrews 56, Moore 24, Etchells, 27M Jongert, Z86, IACC, RP70, Capo 30, Quest 33.
US and UK Dual Nationality, Non Smoker and Drinker, Single
Education
BSc with Honors in Geography and Oceanography from Southampton University, UK
Team player with extensive marine experience from the Caribbean to the Antarctic on sail and power vessels from 20-90 feet. Being a self employed business owner my whole career I have been driven and have a strong work ethic.
Notable Management Contracts
Senior Boating Officer working for British Anatarctic Survey at King Edward Point Applied Fisheries Research Station, South Georgia maintaining and driving two 10m Aluminium Jet Powered Harbour Launches and two RIBs in support of Government of South Georgia and South Sandwich Islands. September 2010-December 2011
Boating Officer working for British Antarctic Survey at Rothera Research Station, Adelaide Island Antarctica running three RIBs for Search and Rescue, Terrestrial Science, Marine Science and Marine Biology. Scientific Diving and also acting as Dive Supervisor. Summer Season 2009-2010
Shoreside Manager for Ocean Planet Open 60 in 2002-2003 Around Alone during the project we required a new boom to be built and shipped to the UK from the US with 1.5 weeks notice and also repaired the boom in the Falkland Islands during the race.
Auckland, NZ on 3 month contract helping to oversee a $200,000 refit of a 27m Jongert at ORAMS Marine including full rig survey, rig repaint and custom milling/lathing of new parts working in conjunction with Southern Spars NZ.
Boat captain of Yeoman XXXII an IRC Rogers 46 for East Coast US and Caribbean circuit 2007 and 2009. Deliveries, logistic organisation, crew boss while racing, overseeing and organising repairs, cooking for crew during regattas. Over 6500 miles.
2004 and 2005 Etchells Fleet 12 official rigger for the loaner boats provided by Fleet 12 to overseas competitors. Required bringing all the boats up to race standard and onsite overnight repairs of all the boats allowing them to race the next day including overnight fiberglass and rigging repairs.
2008 Project Manage finish build of a Saga 409 cruising boat at Westerly Marine including design alterations, purchasing and customer/builder liason.
Complete rebuild and rerig over 3 months of Etchells 126 including fiberglass and gelcoat work.
Notable Offshore Racing
Two Handed Shetlands Round Britain and Ireland Race 2010 - Line Honours, 1st in class, 13th overall, smallest boat in the fleet of 60, on my family owned yacht which we extensively refit for the race.
Newport Bermuda Race - 2004 and 2006 finishing First Overall winners of the St David's Lighthouse Trophy on Lively Lady II
Rolex Transatlantic Race 2005 - 1st in class
Caribbean 600 2009 - Yeoman XXXII 1st in class IRC and 2nd overall in CSA
Rolex Fastnets - Four races completed coming 1st and 3rd in class, started 2007 but retired due to mast track failure
BMW Round Ireland - (retired due to steering failure when in 1st place overall)
Royal Western Two Handed Round Britain and Ireland 1997 - 2nd in class
West Marine Pacific Cup - watchleader 2004 and 2010
Transpac 2008
Chicago Mackinac and Port Huron Mackinac Race - bow on GL70 Cynosure
Newport Beach to Ensenada Race - bow on Pyewacket Z86
Cowes to La Trinite Race 2008 - 1st in class, navigator on Capo 30
Many races across the English Channel over 8 seasons of RORC racing
Many coastal races from San Francisco over 8 seasons
Notable Race Week Participation
Americas Cup Jubilee, Cowes UK onboard Kookabura
IACC racing in San Francisco Bay as bow on NZ14
Long Point Series and King Harbor Race as bow on Pyewacket Z86
Cork Week on Mumm 30 and Express 27
Presidents Cup Regatta, Dubai and Oman UAE (1st overall) on Val 31 Trimeran
Cowes Week multiple times on different boats
Key West Race Week (best result 2nd in class) multiple times including boat captain aboard Rogers 46 Yeoman XXXII
SORC
Kenwood Cup 2000
Millenium Cup Regatta, Auckland, NZ
Heineken Regatta, St Maartan - 3rd in class
Swan North Americans, Newport RI - 1st in class
NYYC Annual Regatta - 1st in class
Block Island Race Week as boat captain aboard Rogers 46 Yeoman XXXII
Antiqua Race Week 2002, 2007 (1st in class), 2009
San Francisco Big Boat Series multiple times
BVI Spring Regatta
St Thomas Regatta (3rd in class)
Harbor Springs, Michigan - mid bow on Decision
Cowes Youth Week as skipper of my Express 27 Santana
Notable Offshore Deliveries and Cruising
Key West to Antigua, Fort Lauderdale to St Maartan - Skipper Yeoman XXXII 2009
Double handed Atlantic crossing Newport, RI to Lymington in 1996 bringing back OSTAR record holder QII
Bermuda to Newport, RI - Watch Captain Swan 42
New York to Newfoundland, Newfoundland to Camden Maine, Auckland, NZ to Sydney, Australia, Vau Vu, Tonga to Auckland, NZ - Watch Captain on SY Vivid 27M Jongert
Newport, RI to St Maartan, Netherland Antilles - Watch Captain on Swan 60
Honolulu Hawaii to San Francisco, CA - Skipper on Andrews 56 and Quest 33, crew on RP70 Pegasus
Mackinac to Chicago on Sayonara ILC78
Ocean Youth Club volunteer Bosun (age 14) and 2nd Mate on Lord Rank an Oyster 78 for 4 seasons
Southampton to Canaries via Spain and Portugual Lord Nelson 42M Tall Ship custom made for disabled passengers Bosun Multiple deliveries along the East and West Coast of the US, Carribbean, Cross English Channel
Maritime Qualifications
MCA Master of Yachts 200T Offshore
STCW 95
RYA Powerboat Instructor
RYA Diesel Engine Course
RYA Safety at Sea
RYA First Aid
MCA 200T Master Motor Vessels Offshore
VHF Radio Operator Certificate of Competency
USCG 200T
Diving Qualifications
Diving and Dive Supervising in Support of Scientific Diving in Antarctica - Advanced European Science Diver
PADI Divemaster
PADI Master Diver - Ice, Altitude, Dry Suit, Enriched Air and Underwater Navigator
PADI Equipment Specialist
Recompression Chamber Operator
Full Face Mask Diving
Employment
Racing Yacht Management, San Francisco, CA - Owner 2006 to present
British Antarctic Survey - 2009 -2011
Based at Rothera Station 67S and at King Edward Point, South Georgia including over wintering.
Ocean Racing, San Francisco, CA - Owner 2002-2006
Online Retail Business including manufacturer of luggage from recycled race boat sails. I sold the business to my partner.
America True (Americas Cup Program) - 1999- 2002
Seeking sponsorship for a Volvo Ocean Race Project
Canterbury of New Zealand, San Francisco, CA - 2002 Manager of Retail Store

Quantum Sails, Annapolis, MD - Sailmaker primarily operating large industrial sewing machines 1999
Pineapple Sails, Alameda, CA - Trainee Sailmaker 1997-1998


Club Membership
San Francisco Yacht Club, Belvedere, CA
Royal Ocean Racing Club, London, UK - youngest elected member.
Qualifications and experience outside the marine industy